Stairs modular CORA model Maxima 07 L-90 12 elements
Dispatched within:
21 dni
product unavailable
add to wish list
4.5
Description
Stairs modular CORA model Maxima 07 L-90 12 elements
The Maxima 07 model is a staircase for self-assembly.
The set includes 12 elements of stairs, folded into 13 levels. The elements are mainly made of solid wood (color to choose from the color palette presented by the manufacturer) and powder coated steel in satin steel. After ordering the service for an additional fee, professional installation in the country is carried out by the manufacturer.
Modular stairs as a modern application in construction, replace traditional wooden modern stairs.
Cora stairs are 100% professionalism and satisfaction.
Maxima 07 stairs can be mounted in one of the 24 systems presented by the manufacturer. The stair treatment is in the original form of a swivel L-90, left or right, as well as an atypical simple treatment - in this case, an appropriate annotation should be added to the form.
It is recommended to install the stairs next to the wall, up to 5 cm from it, which allows the installation of anchors. If the wall does not withstand the anchoring, a support column must be used alternatively. For free-standing stairs, it is planned to use a support pole, as well as railings securing on both sides, additional options on request.
Description: parameters, application
Application: interior stairs (inside the building)
Load capacity: maximum load per degree 200 kg
Weight: A set of stairs / a set of 12 elements 200 kg
Type: single-beam stairs (modular)
Type of application: modular stairs, universal positioning and use, straight, left-handed, right-handed
Type of rooms: for small, medium and large rooms
Type of construction: modular metal 200
Configuration, layouts: possible use of stairs in 24 layouts
Warranty: for the entire set. stairs 24 months
Railing type: filling with polished stainless steel bars (6 pcs. 2 + 2 + 2)
Producer: Polish producer of modular metal stairs CORA system
Examples of heights, sizes
Floor to floor 193 - 253 cm - 10 steps / 11 high (- 2 steps)
Floor to floor 210 - 276 cm - 11 steps / 12 high (- 1 step)
Floor to floor 228 - 299 cm - 12 steps / 13 high (standard)
Floor to floor 245 - 322 cm - 13 steps / 14 high (+ 1 steps)
Floor to floor 263 - 345 cm - 14 steps / 15 high (+ 2 steps)
Floor to floor 280 - 368 cm - 15 steps / 16 high (+ 3 steps)

Technical description
Storey height: from 228 to 299 cm
Pieces Quantity: 12pcs steps / 13 levels (top step below top floor)
Step height: adjustable from 17.5 / 23.0 cm
The size of the step: 260 (200 + 60) mm
The thickness of the step: 40 mm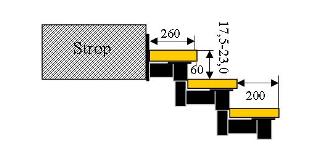 Opening in the roof: minimum 850 x 2190 mm,
The width of the stairs:
- straight treatment: P - 750 mm,
- L-90 torsion treatment: 750/750 mm
Type of construction: modular metal 200
Metal color: steel satin
Wood finish (color): Illustrative image (on beech, natural beech varnish) or other colors from the wood color palette
One-sided railing: in a typical set, one-sided railing from the first to the upper step
Railing description:
- posts (metal) 25 mm,
- filling stainless steel rods cut (6 pcs 2 + 2 + 2),
- 50 mm wood handrail,
Additional information
Unusual stairs to size to be agreed
If it is not possible to adjust the stairs according to the diagrams below, we will make unusual stairs to size.
We will make a design, stair valuation based on:
- sent views of the building cross-section with actual dimensions,
- making a sketch with real dimensions,
- taking illustrative photos of the ground floor and the first floor.
Sending information by e-mail: [email protected]
We will prepare a special offer in our online store, in the category: On request.
Time limit for completion:
- delivery without assembly 2/3 weeks,
- delivery with assembly 4/6 weeks,
CONTACT - technical advice from 9.00 a.m. to 7.00 p.m.
Tel / mobile: +48 509 046 444, Tel / fax: 0048 65 511 92 16, e-mail: [email protected]
Salon and exhibition (Poland) ul. Gostyńska 61, 64-000 Kościan
Shipping costs The price does not include any possible payment costs
Product reviews (0)